Here is what some of our clients have said about the Davis® Program:
---
When our son entered high school last year after home schooling since the second grade, his biggest goal was that people not find out, quote, "how dumb I am." Though he was to a point where he read well, he worked very slowly. After spending eight hours at school he would spend another four on homework. Helping him with his homework filled my evenings and consumed his life.
Last fall, we had a chance to work with Elaine. The progress our son has made this year is remarkable. He is now able to complete a test within a class period. He has grown more confident as his skills improved. His time spent on homework has been cut in half and he is working independently. He is an honor roll student.
One of the first things he noticed [after his program] was that his coordination had improved. I can still remember how excited he was. This week when I watched him singing and dancing in the show choir, I couldn't have been prouder. What a change! His struggles have taught him how to work hard and never give up. He now has time to do the things he enjoys, including successfully rebuilding a 350 engine and working to get the rest of his 1980 Z28 on the road.
- Mother of a 16-year-old male client
---
It's been a year since you came to Imperial to work with [our son], and I wanted to thank you, again, for the work you have done. The confidence that he has shown this past year has been worth the work (and quite frankly, the money). He even made the honor roll for the 2nd and 4th quarters of the school year! He also excelled in track this year, becoming the top mile runner in our conference for 8th grade boys.

I believe that he now understands that HE is in control NOT his dyslexia, and with a little self discipline he can accomplish anything....What you have taught him will always be there if he needs it. Thank you again and wish us luck as he begins high school this fall!
- Mother of a 13-year-old male client
---
I just called [the resource teacher] to see how the week [after my daughter's program] went. She told me [my daughter] had a great week. [The resource teacher] actually had her make her spelling words out of clay and then make a creation of the word. [My daughter] got a 100% on her test today and she was chuckling that [my daughter] had her words all written before the other kids had their papers numbered and she didn't second guess herself at all. Also, the 3rd grade teacher read a 6th grade level book to them this week. [My daughter] tested on it right away and got a 90% on the test!
- Mother of a 9-year-old female client of Thoendel Learning Center one week after her Davis program.
---
The Davis® Dyslexia Correction Program has helped thousands of dyslexics overcome difficulties with the written word. The program can be done in any language, making it the most widely used dyslexia program worldwide!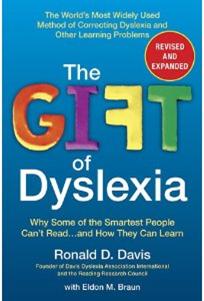 "Ron Davis is a revolutionary and profound thinker and has discovered what history will record as one of the great insights in the fields of learning and how the mind works."

- Thom Hartmann, author of Beyond ADD: Hunting for Reasons in the Past and Present, and many other top selling books.